The Native Ads platform is primarily based on a pre-pay structure, meaning an advertiser loads money to their account and Native Ads will deduct spend from that balance. This is similar to having a "virtual wallet" where an advertiser loads money, and subsequently uses it to purchase traffic on the network. To see how much was deducted daily from the balance simply head to Daily Campaign Reports on the account dashboard. Native Ads currently has the following payment methods available:
Credit card and PayPal
There is a maximum amount of $1000 that can be deposited per transaction if using credit card or PayPal. If an advertiser is making a deposit over $1000, Native Ads offers the option to pay by cheque or through a wire transfer.
Cheque and wire transfers
Cheque and wire transfer payment methods are suitable for deposits over $1000. For cheque or wire transfers, please contact your account manager or sales rep, and submit a support ticket.
Net 1 Daily
Native Ads offers a Net 1 Daily Billing Option which is the recommended option.
Net 1 Daily gives the advertiser a large line of credit to purchase traffic for one day. Advertisers give Native Ads approval to automatically charge their credit card for the previous day's expenditures and refill the account balance up to the full line of credit.
The Native Ads platform sources traffic from their own publisher base as well as several premium exchanges. The system has a safeguard in place to prevent over-spending for advertisers who are on pre-paid deposits.
How it works:
Advertisers are required to initially fill out a standard line of credit application.
A line of credit will be issued once the credit application is approved to spend an open balance daily, with a large daily cap. This will facilitate the system to freely spend up to the daily spend caps for each campaign.
The following day, Native Ads will charge your credit card for the total spend of the previous day and the line of credit will be restored to its original value that was approved.
Note: Campaigns will rarely overspend, but on rare occasions there may be an overspend of 5-10% above your spending cap in cases of API stats retrieving delays.
There are many benefits to being a member of NET-1 Daily with Native Ads:
Never having to worry again about topping up funds or making continuous payments to the account balance.

No possibility of inadvertently stopping the traffic your campaigns are bringing in.
Advertisers can sit back and watch the traffic roll in.
Automatically get the spend priority of a large enterprise account.
Ads will receive front-of-the-line placement on top publishers such as CNN, Discovery, Forbes, The New York Post, and many more…
Traffic will increase very rapidly: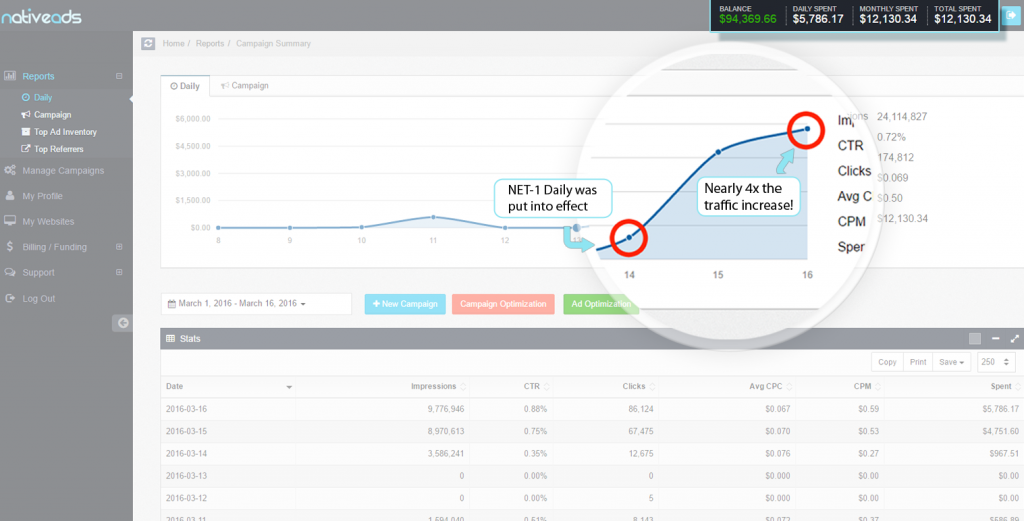 Setup is as easy as 1, 2, 3!
Print and fill out the

credit application form
Upload a picture ID (front and back of a driver's license for example).
Please note that the address on the ID must match the billing address.
Upload the front and back of your credit card.

Print and sign the

authorization form
Print the forms, fill out your information, scan the forms and attach them as a PDF under the Contact Form with the subject line Net 1 Daily addressed to the Billing or Advertiser Support department.