To change the campaign dates where a campaign is active:
Click the Manage Campaigns tab on the left menu
Campaign Schedule
There are many options for changing a campaign's schedule:
Change the End date for the campaign so it can run longer
Remove the End date entirely and select Run continuously

Campaign will run until manually disabled
Deselect the Run Continuously option

Set an end date for the campaign

Campaign will end on the date set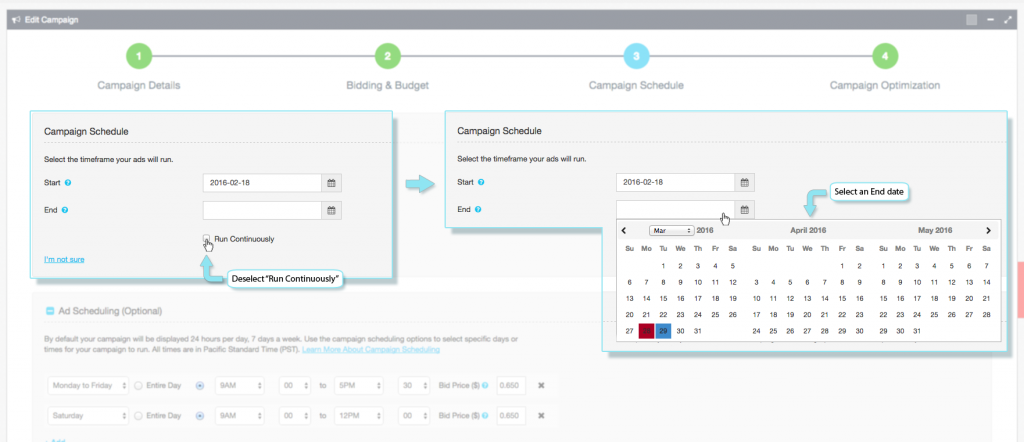 Ad Scheduling (Optional)
Edit the Ad Scheduling section if specific day or time changes need to be made
Edit the dates with the drop down Day Selector
Note: "Entire Day" is selected by default

Edit times with the drop down Time Selectors


Note: All times are in Pacific Standard Time

Edit the the Bid Price CPC

Option for the campaign to spend more during peak hours only, thus increasing traffic

Setting a different bid price in this section will override the price previously set in the "Bidding and Budget" section

Optional and not required

Select "Add" to create new day and time selections

Click the "X" next to the CPC field to remove a selection


Click "Save" to save schedule adjustments and continue editing

OR Click
"Save and Exit" to save schedule adjustments and exit the campaign editing platform.


Note: any changes made to a campaign may take up to an hour to go into effect
If any difficulties arise during this process, please feel free to contact your account manager or sales rep directly. You may also contact the Native Ads Advertiser support team and a representative will be in touch shortly.