Know of people or companies looking to promote a product or service through online marketing? Native Ads offers advertisers an opportunity to advertise on tier 1 properties like Fox News, People, CNN, ABC, and ESPN and equips them with great marketing materials to do so.
By introducing them to this new method of online advertising, affiliates can cash in and earn up to 10% of what Native Ads earns from the traffic they purchase. Affiliates can sign up at anytime through the Native Ads Affiliate Program Sign Up Page.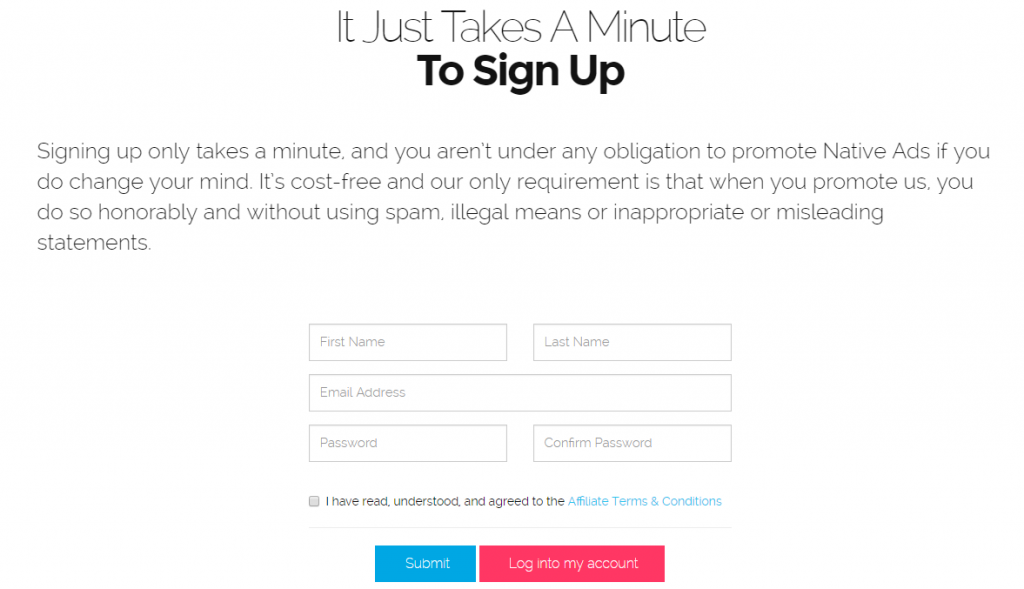 To help maximize earnings, Native Ads provides affiliates with all the tools they will need to introduce the Native Ads platform to as many advertisers as possible. These tools include:
Personal unique link
An affiliate's personal unique link can be placed on their website, on social media websites, and pretty much anywhere else.
When clicked, the link contains a unique referral ID that tells Native Ads which affiliate was responsible for the referral. Anyone who signs up through that link will be permanently tracked to the affiliate, who will earn 10% of the revenue Native Ads generates from that advertiser for life.
Email link
Affiliates promoting Native Ads through email marketing must use the email link ("Your Email Link"). Affiliates are not permitted to use the "Your Personal Unique Link" in mass emails.  While Native Ads welcome affiliates to promote Native Ads via email, please note that any affiliate found spamming will be removed from the program and any accrued earnings will be forfeited.

Creatives
The Creatives tab contains one of the most important promotional tools. Here there are an assortment of banner advertisements in all of the most commonly used dimensions, including standard IAB sizes like 728×90 and 300×250.
Each of these creatives has been tested to ensure it will generate the highest possible CTR and conversion rate.



Social sharing icons
The social sharing icons contain pre-made promotional messages that make it easy to share Native Ads with friends, family, or business contacts on Facebook, Twitter, LinkedIn, and Pinterest.

Here's an example of what the pre-made promotional Tweet looks like when the Twitter icon is clicked on:

Share through email
Interested in sending a quick email to a few close friends? Simply use the Share Through Email feature. This allows affiliates to create a pre-built email promotional message. Affiliates can also customize the message before sending. This feature allows for the message to be sent to up to three email addresses at a time.
Alternatively, use the Yahoo, MSN, or Gmail icons to create a pre-built promotional messages in your own e-mail account. This method is best for affiliates who want to use their own email account for added personalization.